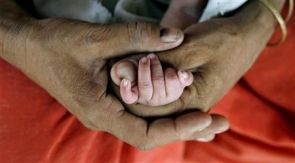 A Christian mother in Central Asia has been forced by her husband to either deny Jesus Christ or risk losing her child in a divorce in which he would be awarded sole custody, a persecution watchdog group has revealed.

The woman, which OPEN DOORS USA has named Sameda to protect her real identity, lives in a Central Asia country, which also wasn't identified for security reasons.

Sameda became a Christian three years ago, leaving behind the Islamic faith, but due to societal pressures and a lack of Christian men in her region of the world, she married a Muslim.

"Initially, we were very happy until he became more interested in my faith. Certainly, I did not hide the fact that I am a Christian and told him that God touched my life one day. After these words, my husband seemed to change," the woman revealed.

At first, the husband, Rashid, did not seem opposed to her Christian faith. As time went on and he realized how serious she was about following Jesus, however, he began pressuring her to convert back to Islam. He beat her a number of times, even when she was five months pregnant.

"Of course, I told him I would remain faithful to Christ," the woman said. "I can't imagine my life without Jesus anymore."

The devastating ultimatum came after Sameda gave birth to their daughter and Rashid threatened to leave her and take the baby if she refused to convert back to Islam.

When Sameda again refused to deny Christ, she was kicked out of the house, but with her daughter in her arms.

"It was so hugely stressful and such a tragedy for me," she said.

"My beloved husband, who always seemed so kind and caring; he kicked me out of his house with a month-old baby without any means of subsistence!"

Sameda and her baby now live with her mother in the capital city, but the danger is not over. The Christian mother could still lose her child if a divorce is to be finalized, due to laws in that country that give fathers sole custody of children in such cases.

"I don't ask God to give me back my husband, to keep my family," the woman said.

"Most of all, I need to be strong in my faith. I don't want to lose it, to lose the relationship with Christ, but sometimes it is too hard. I need to have contact with other believers."

Open Doors revealed that it has been assisting Sameda with basic needs and with care for the baby, which the woman has been very grateful for.

The persecution watchdog group has been reporting on increasing pressure and attacks against Christian mothers and women around the world.

Back in July, the nonprofit shared the story of Noami, a Christian from Mali, who OFFERED FORGIVENESS TO JIHADISTS sent by her own Muslim family to kill her. Noami's husband was killed by the radicals in a similar attack, while in a separate incident her son was taken from her and beaten.

"I have to show love even to the worst of my enemies. Who knows? I may draw them to Christ despite their attitude toward me. Christians are people who love their enemies – their haters – as brothers," Noami said.

"That is how we can win them for the Kingdom."

Source: THE CHRISTIAN POST