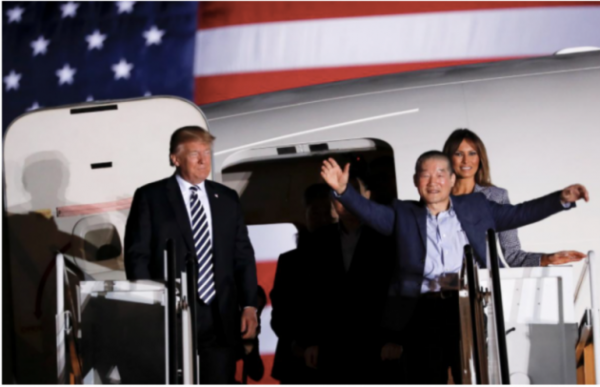 A plane carrying three American Christian prisoners released by North Korea has landed near Washington DC early on Thursday morning and was met by President Donald Trump.

The release was seen as a significant diplomatic achievement by the Trump administration and clears a major obstacle to a planned summit between him and North Korean leader Kim Jong Un.

The prisoners, freed after US Secretary of State Mike Pompeo travelled to the North Korean capital, landed at Joint Base Andrews outside Washington.

The flight, which arrived at around 06.42 GMT (2:42 am local time), was also met by Vice President Mike Pence, White House national security adviser John Bolton and Trump's wife, Melania.

A White House spokeswoman said the three men would be taken to Walter Reed National Military Medical Center in nearby Maryland for further medical evaluation.

They are Korean-American missionary Kim Dong-chul, detained in 2015; Kim Sang-duk, also known as Tony Kim, who spent a month teaching at the Pyongyang University of Science and Technology (PUST) before he was arrested in 2017; and Kim Hak-song, who also taught at PUST and was detained last year.

'We would like to express our deep appreciation to the United States government, President Trump, Secretary Pompeo, and the people of the United States for bringing us home,' the three said in a statement released by the State Department as their plane stopped over in Alaska.

'We thank God, and all our families and friends who prayed for us and for our return. God Bless America, the greatest nation in the world.'

Tony Kim, also known by his Korean name Kim Sang Duk, was arrested on April 22 last year, just before boarding a plane for a flight back to the US.

'My father had just finished his semester as a professor in North Korea when he was arrested at the airport,' said Kim's eldest son, Sol, in a YOUTUBE video, posted several months ago.

Kim was a professor at Pyongyang University for Science and Technology (PUST), the country's only privately-run academic institution, which is open about its Christian affiliation.

PUST was founded in 2010 by a Korean American evangelical Christian with the goal of helping North Korea's future elite learn the skills to modernise the isolated country and engage with the outside world, according to Reuters.

'My mum, brother and I miss our dad so much,' Kim's son said in the video.

Another Christian professor from PUST, Kim Hak Song, was also arrested a month later.

A third individual, a Korean-American missionary named Kim Dong Chul, was arrested in October 2015 and sentenced in March 2016 to 10 years of hard labour for subversion.

North Korean state media said they were arrested either for subversion or 'hostile acts' against the government.

Until now, the only American released by North Korea during Trump's presidency was Otto Warmbier, a 22-year-old university student who returned to the United States in a coma last summer after 17 months of captivity and died days later.

Warmbier's death escalated US-North Korea tensions, already running high at the time over Pyongyang's stepped-up missile tests.

The release of the last US detainees in North Korea appeared to signal an effort by Kim to improve the tone for the summit and followed his recent pledge to suspend missile tests and shut a nuclear bomb test site.

A US official, speaking on the condition of anonymity, said Singapore has emerged as the likeliest location for the planned summit after Trump ruled out holding it at the heavily fortified demilitarised zone between North and South Korea.

Trump, who previously said Singapore was under consideration, said agreement had been reached on a date and venue and details would be announced within three days.

The release of the prisoners also gave Trump a chance to tout a diplomatic achievement soon after his decision to pull out of the Iran nuclear deal drew heavy criticism from European allies and others.