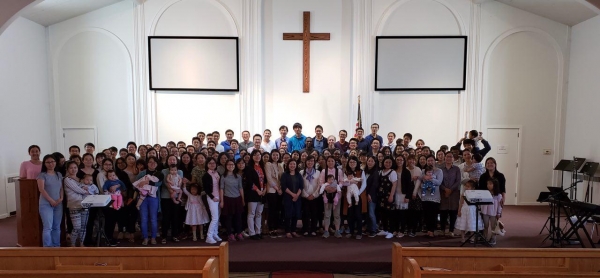 On May 20, a special 3 hours prayer meeting was held in Dover Immanuel Church chapel to welcome the Pentecost and most of the congregation in Dover joined this special event to experience the Holy Spirit.

During the Prayer meeting, Elim Dover staff, Pastor Eliana Kim led with opening prayer. Other staff joined the prayer meeting and prayed for individuals one at a time. Many members came to the front to pray earnestly and enjoy the time with Holy Spirit. The Pentecost prayer meeting focused on our first heart and first love we received from our God and revival of our passion to run for the Kingdom once again. Before receiving prayers from Elim staff, all congregation gave their gratitude and repenting prayers to God. Through the prayers, many tears were shed, many hearts were touched by the Holy spirit. Healing, bounding up, comforting and renewing and revival took place during the 3 hours of prayer.

At the end of the prayer meeting, Pastor Eliana prophesied God's heart with tears. ("I know you know me and you take so many burdens on your shoulders. You really want to follow me and love me. I will love you till the end. Never give up. I will never give up. Look at the cross, He hang on the cross and he endured to the end, my love endures, My love never ever give up. This is the only way. When you want to give up. Just come to me and cry out to me. I am with you. Not your dream, but our dream. My people, time will let you know, all your sacrifice, your tears will be revealed, I never ever ever give up…. I love you. ")

After taking the group photo, it was time for testimonies. Minister Livy Disla from OTM ministry, came to the front to testify the work of the Holy Spirit. She said that she really felt that the Holy Spirit came down on her and she just followed the guidance of the Holy Spirit and laid down the floor. ("All the people around me were worried about me and lifted me up. But I knew what had happened to me. Later Pastor Hannah said she was OK and just had deep rest in the Lord. She shared that there is no condemnation on myself. I still see my sin, but there is no condemnation. It's true. I really want to receive full peace. Even though there is still wounds, but God sewed my woods, it has been closed, it just takes time. I really feel the power of the Holy Spirit.")

Minister Rebecca Dexian from Business Ministry shared that she felt the ability to change during the prayer meeting. Even though she was very desperate for many things, God gave her the ability to change during the pentecost prayer meeting.

Minister Iris From Children Ministry was the last person who testified the work of the Holy Spirit. She said "I really wanted to receive the Holy Spirit." So she asked her husband to came and pray in the first two hours and she came in the last hour. She testified that she felt strong work of the Holy spirit which made her kneel down before God. When she prayed, she saw an image that she was in her mother's womb and had a dialogue with God which brought her deep love and gave thanks to God for choosing her. She said that God really wanted to remind her that He loves her so much and will continue to testify God's love.