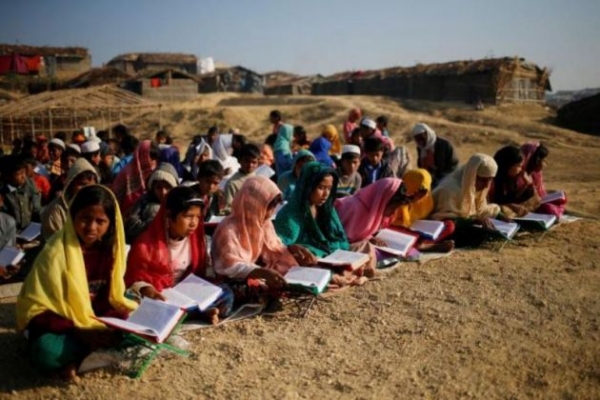 Protesters who gathered outside the Aishbagh Eidgah after Friday prayers on Sept. 15 demanded that the Indian government pressure the United Nations to file a case against Myanmar in the International Criminal Court over the violence against Muslims and Hindus in Rohingya. Some held placards calling for the U.N. to boycott the Myanmar government, denouncing the killing of religious minorities, TIMES OF INDIA detailed.

"It is appalling that the country's own government is conducting atrocities on the innocent Hindus and Muslims of Rohingya area that only proves systematic ethnic cleansing," said Aishbagh Eidgah imam Maulana Khalid Rasheed Farangi Mahali. "Officials responsible for such heinous crime against the communities, should be booked and tried under the international criminal law."

Gurudwara Prabandhak Committee president Rajendra Singh Bagga also spoke up and called on the international community and all kinds of faith to unite against the "barbarianism" in Rohingya. Father Donald of the Catholic Diocese of Lucknow, on the other hand, emphasized Christ's teachings about helping the poor and the marginalized, and said this was the international community's religious duty and human responsibility.

Meanwhile in Bangladesh, authorities have started restricting the entry of Rohingya refugees who have fled violence in Myanmar. In the last three weeks, more than 400,000 people from Rohingya flocked to the neighboring country, and the border camps have already gone past its capacities, THE ASSOCIATED PRESS reported.

Despite the situation, police superintendent A.K.M. Iqbal Hossain SAID Prime Minister Sheikh Hasina had instructed them to honor the human rights of Rohingya Muslims. He admitted that it was quite difficult to maintain order especially during the distribution of relief, but they were still sticking to their mandate.

Myanmar's military had launched clearance operations last month after a Rohingya rebel group attacked security posts on Aug. 25. The clashes pushed people from the Rakhine state to flee, but there were reports that said they were being attacked indiscriminately by Buddhist mobs and security troops.